UPVC Windows
Fineglaze is a trusted Veka and Swish installer. This means all our customers benefit from a leading brand of UPVC windows. All the UPVC windows we offer are extremely energy efficient. This multi chambered window has excellent thermal properties, allowing it to achieve an 'A' Window Energy Rating.
Unlike traditional window systems which have 3 chambers, our Eco Energy windows have 6 chambers. Their superior insulation will make sure your home is kept warm throughout the winter. By choosing our Eco Energy windows you will be contributing towards a greener environment. Completely lead free, our Eco Energy Windows are very environmentally friendly. Our UPVC windows will help reduce your carbon footprint, allowing you to benefit from an eco friendly home.
We can offer you a comprehensive range of UPVC windows throughout Buckinghamshire, including Aylesbury, Dunstable, Leighton Buzzard, Milton Keynes and Tring, including casement windows to sliding sash windows, we have UPVC windows to suit all properties and budgets.
Colours & Finishes
Choose from our quality range of colours and wood grain finishes. Make a statement with Chartwell Green or opt for a subtle look with a traditional Irish Oak effect. If you have a traditional property then our classic wood grain finishes will be highly complementary.
Whatever your personal preferences, we are confident we can provide a solution for your property. Our colours and finishes suit a wide range of properties, both modern and old.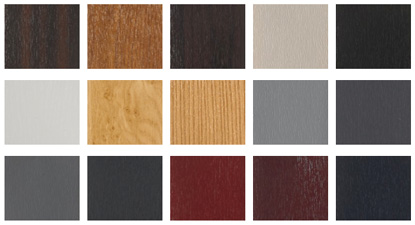 Window Security
All our UPVC windows come with high security locking systems as standard. Our Yale security locks keep our windows incredibly secure. We also offer optional shootbolt locking which will maximise your window's security.
Approved by Secured by Design, our locking systems are designed to the highest specifications. We offer a full guarantee on all our Yale locks. Your locking system will be covered for 10 years after initial installation.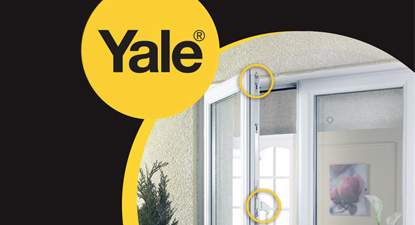 Triple Glazing
Our UPVC windows are also available with triple glazing. Triple glazing can offer a higher level of thermal insulation as well as sound proofing. This is particularly effective for those who live in noisy, built up areas. 
UPVC Casement Windows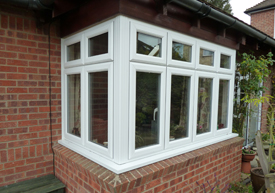 Attractive yet practical, our UPVC casement windows are suited to a range of different applications. Stylish in appearance, they complement properties both old and new.
A popular style,  UPVC casement windows are very versatile. Their single-lever latch design allows for single-hand operation, making them very easy to open and close. Commonly installed in hard to reach places such as behind kitchen sinks, the UPVC casement window is very accessible. Opening wide, they can also double up as an emergency exit.
Our casement windows offer a high level of security and thermal efficiency. The sash is designed to press tightly against the frame upon closing, creating an air tight seal.
This means any draughts or cold spots will be eliminated. Hook shaped locks are embedded within the frame maximising security, making these windows extremely secure.
UPVC Tilt and Turn Windows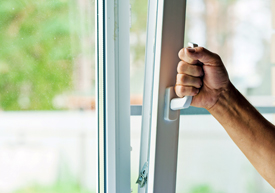 Our innovative tilt and turn windows provide a dual-action movement. Opening inwards as well as outwards, the UPVC tilt and turn window allows you to ventilate your home without exposing it to the elements.
Side hinges allow this window to swing inwards, making it ideal for high rise buildings where accessibility is limited. Their clever tilt and turn mechanism enables you to clean the outer panes with ease.
Our UPVC tilt and turn windows are sleek and stylish. Hardware is fully integrated so you can benefit from lovely slim sightlines. Highly efficient, our windows have advanced weather and sound proofing properties. Their interior rebate gasket ensures your window is fully insulated
UPVC Sliding Sash Windows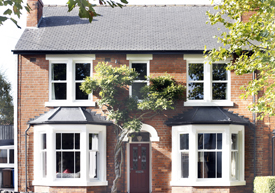 If you are looking to maintain the traditional appearance of your home then our UPVC sliding sash windows offer an attractive solution.  Our stylish yet practical windows will provide you with timeless aesthetics. Durable, their UPVC materials allow them to perform year after year.
When you choose our UPVC sliding sash windows, not only will you be restoring the traditional aspects of your property but you will also be saving valuable heat.
Our beautiful sliding sash windows have been designed as a low maintenance alternative to standard sash windows. Their clever design ensures your home is kept free from draughts, providing a high level of insulation.
Composite Windows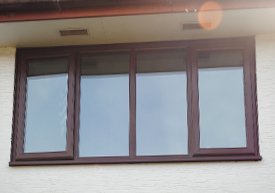 Their aluminium exterior provides effective weather proofing and will never rot or peel. This ensures our composite windows perform like new, year after year.
The timber provides a beautiful finish, adding a classic touch to your traditional or modern home.
For more information regarding our UPVC windows in Aylesbury, Dunstable, Leighton Buzzard, Milton Keynes, Tring, and all areas throughout Buckinghamshire, please contact our friendly team today.