Conservatories
Having a conservatory installed will add value to your home, add an attractive feature to the property and create a brand new living space for you and your family to enjoy. FineGlaze are experts in the design and build of beautiful and unique conservatories. Our highly skilled team will be able to guide you through the installation from start to finish.
Bespoke Conservatories
We are able to customise your design exactly how you want it. We will help you choose window, door and roof styles, frame colours and floor tile options. You can view various different combinations of these options until you find the conservatory that is right for you. What's more, to help you envision the finished article, we can superimpose your personal 3D design onto a photo of your home.
Edwardian Conservatory
Due to its bold, square design, the Edwardian style is an ideal option for the homeowner looking to maximise space.Ideally suited to properties both old and new Edwardian conservatories offer a practical and versatile living space. The perpendicular structure makes it easy to fit furniture within an Edwardian conservatory creating a functional room that is great for socialising. The strong straight lines of the Edwardian conservatory produce an eye-catching and illustrious addition to any property. Both formidable and refined this style could be the perfect statement to make with your home.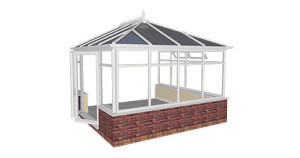 Victorian Conservatory
For a timeless style that exudes class you need look no further than the Victorian conservatory. This traditional conservatory option is rightfully popular with homeowners seeking to add a touch of elegance to their property. The structure is a multi-faceted bay that projects away from the property with a steep roof that, as the name suggests, echoes Victorian architecture. The roof is complemented by ornate crestings that really create a sense of gentility. Its steep slope also gives the impression of space, allowing natural sunlight to flood the interior, creating an airy and tranquil environment within.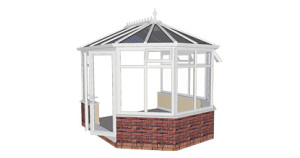 Gable Conservatory
With their high-pitched roofs gable conservatories can give your home a grand and dignified appearance. This minimalist style perfectly complements the more modern home but can also breathe new life into older properties. The gable conservatory is similar to the Edwardian style but has a roof that has a singular straight ridge without the sloping section at the front. A popular addition to a gable conservatory is to have a 'rising sun' design incorporated into the gable end.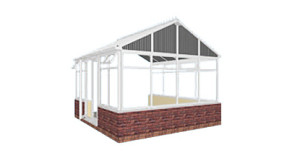 Lean-To Conservatory
The lean-to is probably the most versatile of all conservatory styles. They can be installed to the majority of properties and are particularly suited in instances where space is limited. They are a cost-effective way of extending your home and as the pitch on the roof can be varied to circumstance they can often be fitted where other conservatory styles are not possible. This is particularly true in properties where there are height restrictions such as bungalows that have low eaves.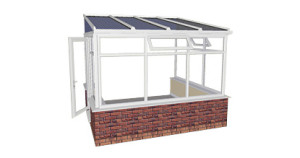 P-Shape and T-Shape Conservatories
P-shape or T-shape conservatories combine the lean-to conservatory style with another style in order to create a unique structure. They will add character to a property and are an ideal solution in situations where there is a non-standard building space. These conservatories will help you gain valuable space and can be used for a variety of purposes. We can help you design your bespoke P-Shape or T-Shape conservatory so that you get the most out of the space you have available and the desired stylistic impact.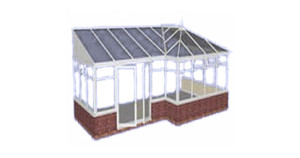 Conservatory Glazing Options
We use Pilkington Activ Blue glass for our conservatory roofs. This high quality glass has several benefits. The blue tint will reduce solar glare and also keep your conservatory cooler in hot weather. It has self-cleaning properties making it extremely low-maintenance, retaining its shine and lustre all year round. We also offer other glass options and polycarbonate roofs. If you would like to know more about the roof options that are available please contact us for further information.